Theme: Sport
Providing an additional platform to showcase your handcrafted work.
Every month, we share a theme. Makers from all over the country are invited to create new work or share photos of existing work that relates to the chosen theme of the month. The theme for July 2022 was 'Sport.'
The maker of each submission is also entered into a free prize draw and a winner is selected at random to win a £25.00 Turners Retreat voucher! That work will be our 'Featured Piece of the Month' and will be shared with our Mailing List subscribers by email and on our social media pages.
View the submissions sent in to us during July below and support fellow makers by following their social media pages. Let's help eachother grow!
If you would like to take part in the next theme, click here to find out how to enter!
---
Prize Draw Result
The winner of the prize draw and featured piece of the month is Glynn Harrington. Congratulations, Glynn! A £25 Turners Retreat voucher is on its way to you by email, and your work will be featured on our social media feeds and in our e-newsletters during the month of August.
---
Featured Piece of the Month: Special Branch Turning
Maker: Glynn Harrington
Craft: Woodturning
What inspired this piece: My 9 year old son loves chess and mithers me to play all the time! When I decided to make some bookends, the idea of adding chess pieces as a feature came readily. I needed them to be sufficiently sturdy, and settled upon Oak with some lovely Walnut for the pieces to provide contrast.
Find Special Branch Turning Online
---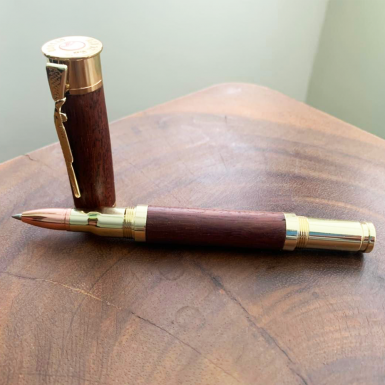 Absolute Resin
Maker: Simon Leathley
Craft: Woodturning
What inspired this piece: This is a bespoke commission piece made for a customer in memory of his Dad. This stunning Rosewood was originally the parquet dance floor found in a Leeds ballroom and was rescued, restored and re-laid by his Dad in his own home. After his death, when the flooring was taken out – a piece was kept for sentimental reasons and has now been used to make a beautifully turned shotgun pen using a pen kit supplied Turners Retreat and finished with Odies Oil UK.
Find Absolute Resin Online
---
Kate's Kuality Krafts
Maker: Kate Kitchin
Craft: Woodturning
What inspired this piece: ACE Hole-in-One - Golf Pen. Par for the Course! Traditional but quirky combo… Turned Birch pen finished with a hint of green pigment powder, with chrome fittings and golf club clip from Turners Retreat! Complete with pen stand… a golf ball on a perfectly trimmed green (fake grass!) with an oak turned base.
---
Thank you to everyone who took part in this month's Showcase. We appreciate you sharing your stories with us!
To find out the theme for next month and details on how to get involved, please click here.
---
Here's some of the products used to make this month's submissions...
---
---
---
---
---