Theme: Royalty
Providing an additional platform to showcase your handcrafted work.
Every month, we share a theme. Makers from all over the country are invited to create new work or share photos of existing work that relates to the chosen theme of the month, and in light of Her Majesty The Queen's Platinum Jubilee, the theme for May 2022 was 'Royalty.'
The maker of each submission is also entered into a free prize draw and a winner is selected at random to win a £25.00 Turners Retreat voucher! That work will be our 'Featured Piece of the Month' and will be shared with our Mailing List subscribers by email and on our social media pages.
View the submissions sent in to us during May below and support fellow makers by following their social media pages. Let's help eachother grow!
If you would like to take part in the next theme, click here to find out how to enter!
---
Prize Draw Result
The winner of the prize draw and featured piece of the month is Charles Ward - Rabanda Crafts. Congratulations, Charles! A £25 Turners Retreat voucher is on its way to you by email, and your work will be featured on our social media feeds and in our e-newsletters during the month of June.
---
Featured Piece of the Month: Rabanda Crafts
Maker: Charles Ward
Craft: Woodworking
What inspired this piece: I hate waste and am always trying to think of ways to use waste wood from other projects. I was asked to create a simple chopping board from off cuts for my father in law. He likes Purple Heart and Padauk so this creation was born! It was very well received!
---
Orana Crafts
Maker: Sam Derrick
Craft: Wood Carving/Pyrography
What inspired this piece: I'd been wanting to try carving a chess piece, and the queen seemed ideal for the Royalty theme. I wanted to make it a little different, so carved the spiral in the middle and used a swarovski flat back crystal for the top. I was going to burn a chessboard to put her on, but figured why not put the chessboard on the piece.
---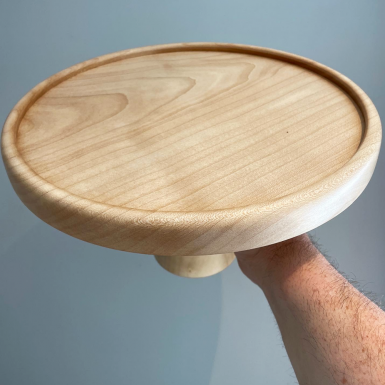 Paul's Woodworking
Maker: Paul Oatham
Craft: Woodturning
What inspired this piece: The opportunity to make a cake stand (scary) for a lovely lady came up. Sycamore is a beautiful wood; I love working with it. The grain pattern is stunning. I'm still learning to turn; however, practice makes perfect. TR have been so supportive and that really has helped me.
Jubilee celebrations will soon be here, well, I'm no good at making cakes, so I thought I'd attempt to turn a 'cake stand'.
Prince Charles, recently, launched a campaign to honour trees, one for every year of his mother's reign, including a 423-year-old sycamore at Dumfries House in Ayrshire.
So using Sycamore in my cake stand design seems a fitting celebration too…
Find Paul's Woodworking Online
Instagram | Website
---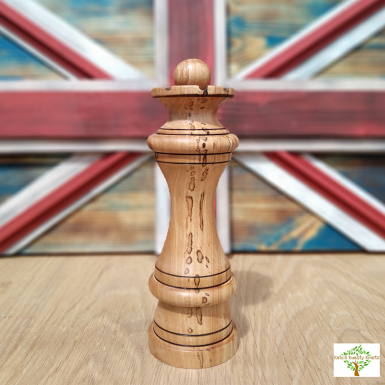 Kate's Kuality Krafts
Maker: Kate Kitchin
Craft: Woodworking, turning and pyrography
What inspired this piece: Queen Chess Piece - As this month's theme is royalty and the Queen's platinum jubilee is this week, I couldn't think of a better project than a giant queen chess piece. Turned from beautifully marked Spalted Beech which was given to me by an amazing friend! Finished with burnt and carved details, sanded with Abranet from Turners Retreat and finished in a natural wood finish.
Photo features my rustic handcrafted Union flag made from various types of upcycled timber, a great combination for this month's celebrations!
---
Thank you to everyone who took part in this month's Showcase! We've loved seeing your work and learning more about the inspiration behind each piece, thank you for sharing your stories with us.
To find out the theme for next month and details on how to get involved, please click here.
---
Here's some of the products used to make this month's submissions...
---
---
---
---
---