---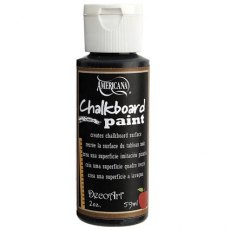 Chalk Board Paint
DADCACB
Americana Chalkboard Paint is an acrylic paint that turns nearly any porous surface into a chalkboard. This paint provides simple soap-and-water cleanup and comes in a water-based, non-toxic formula.
Crafters Acrylic Paint
DADCA
Versatile and non-toxic, the DecoArt Crafter's Acrylic range is a great choice for all kinds of crafty ideas! Make your projects stand out with this fantastic craft paint, designed especially for the discerning creative! When you're looking for bold and even coverage, this paint helps you every step of the way. With your brush or sponge, apply this paint against a wide range of surfaces,...