NOVA Viking DVR 16" Drill Press (Bench Mount)
Product Description
NOVA's latest machine is a 16" DVR Benchtop Drill Press. The NOVA Viking is a 1HP, 150-3,000 RPM (programmable to 5,000) electronic variable speed machine, with a large easy to read display and a variety of intelligent features such as Auto Start feature for one handed drilling and Electronic Depth Stop. The table can be tilted and rotated.
Direct Drive Power and Consistent Torque
1HP DVR Smart Digital Motor delivers correct speed and power to maintain optimal torque direct to the drill head – across the entire speed range. No belts or pulleys to cause vibration or power loss. A belt and pulley system absorb typically 20% of the motor power before it even gets to the tool. The DVR motor delivers constant torque with all materials.
Smart Digital Motor
Smart sensors interacting in a number of ways – safety, intelligence workshop assist, and performance
Cast Iron Woodworking Table
Solid Cast Iron for maximum stability. Maximum flexibility and options. Woodworking design to provide maximum clamping and accessory options. 12 2/3″ x 12 2/3″ (320mm x 320mm) Tilting and Rotating
Electronic Variable Speed
150 – 3,000 RPM (programmable to 5,000 RPM) Versatile for a variety of projects – Large deep hole drilling, mortising, high speed sanding.
Forward and Reverse
For LH drill bits, gives you more flexibility for projects.
Electronic Depth Stop
Quickly and accurately automatically stops to the depth you program for your project. Precision drilling.
Display Screen
Large, easy to read display with choice of metric or imperial (fractions or decimal). Easy to switch between modes.
Self Start and Braking
Enables a one-handed drilling operation by automatically turning on and off.
Available as a Bench Mounted or Floor Standing unit. (Floor Standing unit currently out of stock)
Specifications
Variable Speed: 150 – 3,000 RPM (programmable to 5,000 RPM)
Swing: 16"
Stroke: 4.5"
Spindle to Table: 12 2/3″ (320mm)
Spindle to base: 22 2/3″ (575mm)
Drill Chuck: 5/8" (1-16mm)
Spindle Taper: 2MT
Quill: 4.5" of quill travel in just 1 1/4 revolutions of the handle, which allows for far greater accuracy
Motor: DVR High Torque 1HP motor, Electronic Variable Speed. 1HP Direct Drive; Single Phase Input Supply.110V-240V, MAX 10A-15A, 50Hz/60Hz
Weight: 154lbs/68.85kgs
Home Delivery
UK mainland delivery from £60.00
You may also like...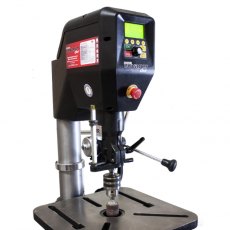 People who bought this also bought...
---
---
---
---
---