---
Basswood Round
BASSWOOD
Walnut Hollow Basswood rounds are ideal for pictorial pyrography and scrollsaw projects. They are cut on a slight angle to the log which gives the 'round' a slightly oval shape. These are kiln dried and sanded with the bark intact all the way around. Available in several sizes. Approximately 3/4" thick. Rustic home decor Ideal for woodburning and wood carving Ready for any...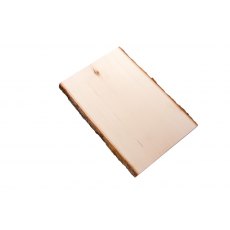 Basswood Country Plank
BPLANK
Walnut Hollow Basswood Country Plank. This unique bark edge surface is ideal for pyrography, hot stamping, and wood carving. Kiln dried and naturally untreated. Due to the nature of the product, the height, shape and grain of individual planks will vary. Size is approximately 9" to 11" wide and 13" long. Made in America.