AFS-500 Air Filtration System
Product Description
This is a medium to large workshop filter unit which has the advantage that it can be positioned anywhere in the workshop, either on a bench, a shelf or suspended from the ceiling. The unit is easy to operate and has three speeds simply activated by the push of a button or by using the convenient remote control. It should be mounted away from ventilation and heating vents and is only suitable for non-metallic dust particles. The unit can be positioned either vertically or horizontally to best utilise the space available. It is fitted with a pleated cloth main filter and an electrostatically charged pre-filter. An optional charcoal filter is available which can (a) neutralise odours and harmful organic fumes and (b) refresh the air by removing smoke, dust, bacteria, pollen and other harmful microscopic particles. The machine runs reasonably quietly with noise levels of speed 1: 56 dB. speed 2: 58 dB. and speed 3: 60 dB. Supplied with main filter, electrostatically charged pre-filter and remote control. For best results leave the AFS-500 running for a few minutes to clean the air after your machines have been switched off, or use the built in 2,4 or 8 hour timer options to run the filter after you leave the workshop.
Quiet cleaning and filtering of the air
Filters 98% of all dust particles down to 5 microns and 85% of all particles down to 1 micron
External electrostatic filter and internal filter cartridge, simple to change or clean with careful vacuuming
Volume flow rate can be set to 3 levels: 6/8/10m3/min
Waste airflow can be controlled with bladed air vents
Portable with handle
Specifications
Motor: 230v
Air volume flow rate: 360, 480, 600m³/hr
Filter efficiency for particle size (inner/outer): 5/1 Micron
Remote control/timer (h): No / 2, 4, 8
Noise level (LpA, dB): 57/59/61
Dimensions: 610mm x 400mm x 310mm
Weight: 15kg
Custom Delivery Required
Delivery price on application.
You may also like...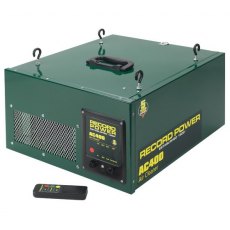 People who bought this also bought...
---
---
---
---
---