---
Carving Woodspirits: Beyond The Basics
BCWS
From the Back Cover Carving Woodspirits: Beyond the Basics bridges the gap between the 'beginner' and 'intermediate' woodcarver. When one first learns to carve faces, everything is done simply and with few steps, but as the beginner practices and eventually "gets it", there is a need for expanded knowledge. There are lots of beginner books, but they don't take the beginner through the...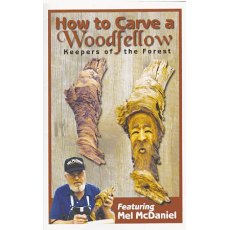 How To Carve A Wood Fellow
BHCW
How to Carve a Woodfellow: Keepers of the Forest takes you through the process of carving a woodfellow in a pine knot. Clear and easy to read text and photographs makes it simple to understand the processes to help increase your understanding of carving wood.