T8 Tormek Sharpening System
Product Description
The Tormek T-8 sharpening system is the perfect answer to your sharpening requirements. For any professional or amateur needing a versatile, reliable and repeatable sharpening system, the T-8 should be on the top of your list.
The T-8 has a 250mm x 50mm water-cooled grindstone and a 220mm x 31mm leather tyred honing wheel. Powered by a quiet 200W motor, Tormek's unique and efficient drive system maintains constant speed, even under load. Tools can be sharpened with the Supergrind wheel cutting towards or away from the edge. The T-8 features a strong, cast-alloy casing. The mounting sleeves for the universal support are an integral part of the casting. The design eliminates the possibility of any misalignment between the universal support and the grinding wheel. The universal support bar has a micro-adjuster, which makes setting up or replicating a sharpening angle easy and highly accurate. The Advanced Water Trough features a screw lift mechanism. You can fit it, fill it and then by simply turning the knob, raise the trough to bring the water into contact with the stone. It makes removing the trough for emptying just as simple. The T-8 includes a magnetic scraper for efficient cleaning. The unit has an NVR safety switch with a strong waterproof cover.
The T-8 is suitable for use in education and other areas where an NVR switch is a necessity. The T-8 includes TT-50 Truing and Dressing Tool, SP-650 Stone Grader, WM-200 Angle Setting Guide, PA-70 Honing Paste and Dressing Oil for the honing wheel. In addition, there is a comprehensive handbook and Tormek DVD all packed in a strong storage tray. The T-8 also includes the SE-77 upgraded jig for square edge tools. Its design has a movable side and fine adjustment. This ensures a precise 90° angle between your blade's edge and side. It also offers the possibility to create a slightly cambered edge. The Tormek wet-grinding method leaves a polished, burr-free edge without overheating the tool. Wet grinding significantly extends the life of your tools; it removes less material without affecting the temper of the steel.
Features
Universal Support: The base and support for all jigs. Enables unbeatable precision when sharpening.
Patented Precision Mounts: Ensures controllable and accurate sharpening.
MicroAdjust: With acme thread and a scale for precise edge angle setting.
Magnetic Scraper: Efficiently collects sharpening dust and makes it easy to clean the water trough.
Screw Lift: Easily raise and lower the water trough.
EzyLock: Convenient, tool-free locking/unlocking of the grinding wheel.
Industrial AC Motor: Maintenance-free. Minimal rpm loss under heavy load. Tested for a 25,000-hour service life.
Proprietary Drive Wheel: RKX18 rubber ensures years of silent and reliable operation.
Specifications
Dimensions
Width 105/8" (270 mm)
Depth 105/8" (270 mm)
Height 12" (330 mm)
Weight
Shipping weight 41.3 lbs (18,7kg)
Machine only 32.6 lbs (14,8 kg)
Grindstone
Tormek Original Grindstone SG?250 Aluminium oxide
∅ 10" × 2" (250 × 50 mm)
90 rpm, torque 14.7 Nm
Leather Honing Wheel
∅ 85/8" × 1¼" (220 × 31 mm)
Main Shaft
Main shaft and EzyLock of stainless steel
Housing
Zinc cast top and frame
Sides in ABS plastic
Motor
Industrial single phase, AC 200 W (input)
230 V, 50 Hz
Continuous duty
Maintenance free
Silent running, 54 dB
25,000 hour life
Collect in Store
This item is available for collection.
Home Delivery
UK mainland delivery from FREE
You may also like...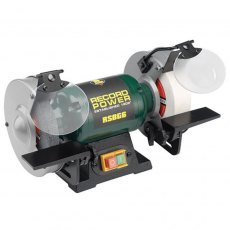 People who bought this also bought...
---
---
---
---
---