---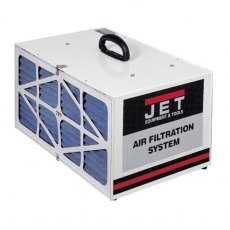 AFS-500 Air Filtration System
AFS_500-M
This is a medium to large workshop filter unit which has the advantage that it can be positioned anywhere in the workshop, either on a bench, a shelf or suspended from the ceiling. The unit is easy to operate and has three speeds simply activated by the push of a button or by using the convenient remote control. It should be mounted away from ventilation and heating vents and is only suitable for non-metallic...
AFS-1000 Air Filtration System
AFS_1000B-M
User-friendly air filtration system for medium-sized rooms Quiet cleaning and filtering of the air Filtering 98% of all particles 5 microns in size and 85% of all particles 1 micron in size The air filtration system can either be hung on the ceiling or placed on a workbench Air flow (12/15/20m3/min) and running time (2, 4, 8h) are adjustable with remote control With an external electrostatic...