---
Screw Clamp
TREC-SCR
Eclipse Screw clamps for medium to heavy duty wood working applications. Available in 12" (300mm) and 24" (600mm) with 80mm Throat Depth. Cast iron heads and nickel plated steel bar offer maximum strength 80mm Throat depth models can achieve up to 250 kgf and 120mm Throat depth models up to 300 kgf of sustainable clamping force. The sliding head quickly sets the clamp to the required...
One-Handed Bar Clamp
TREOHBC
One handed bar clamps and spreaders for a variety of medium duty wood working applications. Carbon steel bar and reinforced nylon body for strength and durability and can achieve a sustainable clamping force up to 150 Kgf Ideal for medium duty clamping and temporary hold down work The quick release insert trigger enables the clamps to be quickly positioned and released Easy push button...
---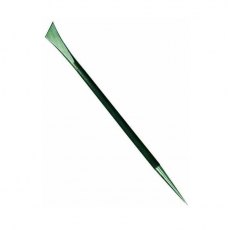 Handy Scriber
76-229R
Eclipse Professional Tools 76-229R Handy Scriber Double ended with pointed and knife-edge ends. Suitable for marking and scoring most materials including wood, metal, laminates and plastics.