Catalogue Request
The Turners Retreat 2020/21 Catalogue!
Our latest catalogue features some of the very best tools, machinery and materials from the wonderful world of turning and woodworking.
Browse brands and products suitable for a variety of interests:
Woodturning: Lathes, Machinery, Tools
Sharpening: Machinery, Accessories
Pen Making: Kits, Blanks, Display Cases
Project Kits: Salt and Pepper Mills, Pewter Lids, Clocks
Pyrography: Machinery, Blanks, Accessories
Decorative Accessories: Resin, Airbrushes, Paints
Finishing: Sanding Sheets, Stains, Lacquers
Workshop Accessories: Safety Wear, Smocks, Adhesives
Timber: Veneers, Bowl Blanks, Spindle Blanks
Educational: Books, Courses
And that's just a taster of what we have to offer! To request your free copy, please complete the form below.
You can also sign up to our mailing list and be the first to receive exclusive updates about our products, upcoming events, courses and fantastic limited offers!
Please note, the prices in our catalogue are subject to change. For the latest prices, please browse our website or get in touch.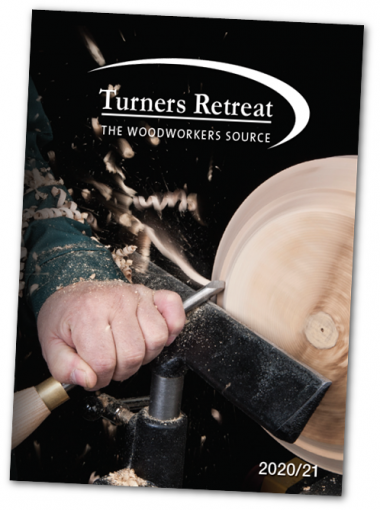 ---
For more information on how we use and store your data please click here.
We guarantee all our customers that their contact details will not be transferred to third parties and any information provided will be protected by Turners Retreat and its parent company Robert Sorby. Turners Retreat is committed to an anti-spam policy. You can easily opt out of the solicited email process by ticking the 'opt-out' option box at the foot of future email correspondence.